What is the need for good Jewellery Box Packaging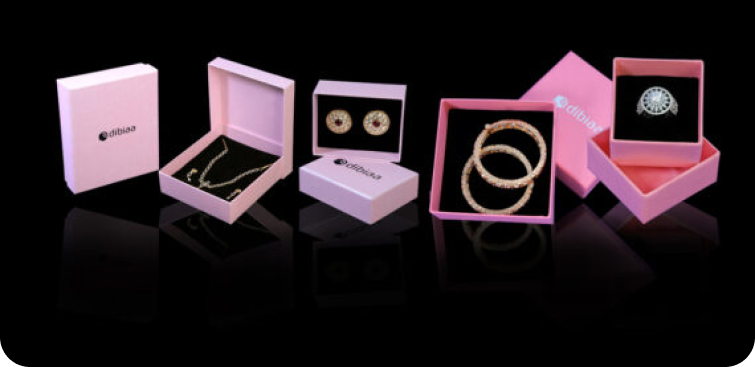 A beautiful piece of jewellery deserves elegant and safe packaging to protect it from damage and enhance its worth. Good packaging helps you to grab customers' attention and showcase your brand's worth. The purpose of jewellery box packaging should not be limited to just protecting the jewellery, but it is also a way to promote your brand to your potential customers.
Unboxing videos and gift-opening trends are popular on YouTube and other social media platforms. It has become a powerful medium for marketing and promotions, and attractive packaging is the first thing that attracts viewers' attention. Hence, a good jewellery packaging box is important for budding brands to insert their impactful image in customers' minds.
Presentation plays a crucial role in the jewellery industry, where showrooms are equipped with fancy lightenings and beautiful glass cases containing precious pieces of jewellery to lure customers into purchasing. But the purpose of all these setups will go in vain if you neglect the importance of good jewellery box packaging.
Have you ever thought about the image your jewellery brand will create upon a person receiving a jewellery gift in poor packaging from your brand? Maybe they will neglect your brand, and you may lose your potential customer. A good packaging box lights up the mood of the person receiving the gift at first sight. You should give your best first impression to your customers. As we know, the first impression is the last impression.
How does Dibiaa help you to showcase your brand through Jewellery Box Packaging?
Are you looking for a fine rigid packaging box at an affordable price for your business? Then you don't need to worry. We at Dibiaa will help you fulfil your requirement for a rigid jewellery box, which will safeguard the jewellery and promote your brand among customers.
Dibiaa is a renowned jewellery packaging box manufacturer that offers customized jewellery box packaging solutions for your business requirements. You can choose from different sizes and colours available as per your requirements. Each of these boxes can be customized with your brand logo and design to give you the edge over marketing.
Some of the Attractive Features of Dibiaa jewellery boxes
Beautifully Crafted:- Each packaging box is crafted beautifully to evoke a sense of luxury among customers.
Durability:- We use high-quality packaging material, which is more durable than conventional jewellery boxes. You can carry it easily as it is light in weight.
Best Finishing:- The ordinary boxes do not have finishing from the edges, which get loose after some time. On the other hand, each box at Dibiaa is designed carefully with sturdy materials that give the best finish from all the edges.
Size and Shape:- We at Dibiaa have realized that small and medium jewellers are not getting a proper solution to their packaging needs. Hence, we have created multiple varieties of jewellery boxes of all sizes. You can choose from a small ring box to a big necklace box from our collection.
Eco-Friendly:- Dibiaa is contributing toward environmental sustainability by using eco-friendly materials. Every jewellery packaging box is built with recycled cardboard material, which is sturdy and made with eco-friendly materials.
Cost-Effective: - Affordability is a major issue that small and medium jewellers face when buying jewellery boxes for gift packaging. They do not require bulk quantities; hence, they buy small quantities of personalized boxes at a higher rate from small vendors. At Dibiaa, you don't need to worry about the order quantity because we provide affordable rates for both small and bulk orders with defined delivery timelines and no quality compromise. We provide you flexibility so that you don't need to overspend on unnecessary bulk buying.
Types of Jewellery Boxes for Gift Packaging
Dibiaa offers you six kinds of jewellery box packaging of different sizes for products.
Ring box: Why not make your engagement special not just with an expensive ring but the packaging that holds that ring? Yes, the experience of presenting a ring in style along with a perfect ring box also matters. The cost of the ring does not matter here; the feelings packed in a worthy box will do the work. Get perfect Dibiaa ring boxes for all your rings. Call now at 9910690691.
Earring box: Beauty lies in the eyes of the beholder, but our Dibiaa earring box will just enhance the beauty of the earrings placed in it. Earring boxes are a perfect fit for all kinds of smaller earrings. Whether diamond studs or gold and silver earrings, our boxes compliments all.
Bangle box: Our bangle box size is so perfectly created for placing and storing your bangles. The bangle itself will never create that impact in the mind of the buyer, but showing them with perfect boxes will certainly create a better-perceived value. These boxes are of multipurpose use. Pack your earrings, small pendant sets, coins, danglers and much more. So just don't flaunt your jewellery but your box too.
Chain box: Your jewellery always looks as good as its box. A customer never fails to ask for the right box for their jewellery. Our chain boxes are one such creation that adds value to the ornament kept inside. Just like a chain or a beaded necklace that is made with utmost care placing each piece in synchrony to achieve perfection, our chain boxes are also made that way. These Dibiaa chain boxes can be used for keeping bracelets, chains, necklace pieces, malas, watches and many more jewellery pieces.
Pendant box: Just like a delicate pendant set, our pendant box is so perfectly sized, keeping that delicateness in mind. That coordinated look of a pendant with a chain and its complimenting earrings is brilliantly showcased in our box. It certainly helps the buyer to make a quick decision.
Necklace box: The necklace set stays more in its box than the neck of a beautiful lady. No matter the beauty of the beautiful set is displayed on the women's neck but storing and showcasing it will happen in its box. Not all your necklace sets can be displayed in the shop. Keep them well, pack them well, pack them in style, and use dibiaa necklace boxes for all your necklace pieces.
Tips to Choose a Jewellery Gift Box
Below are the tips you must follow when choosing a jewellery box for gift packaging.
Estimate Your Requirement
It is a crucial step you should always start with. Always have an estimate of the quantity you require for your business need. At Dibiaa, we offer heavy discounts for bulk orders. However, we also provide competitive rates for small orders. This will enable a small quantity buyer to not overspend on bulk buying and block funds.
Choose Size & Style
We provide jewellery boxes of all sizes, whether ring or bangle boxes or big necklace boxes. We also offer Top Bottom Box and a Magnetic Flap Box. You can choose the size and varieties as per your requirement. choosing the correct box will enable you to use it in a multipurpose way.
Have a Budget
It would be best to have your budget. It will save you from overspending. Always keep the budget in mind when choosing a jewellery box for packaging but never compromise on the quality of the product. Check our website https://dibiaa.com/ for affordable and customizable jewellery boxes for your need. Sometimes it happens that you dont find anything in the price that you have set as a budget for the packaging for your product. In that case you should not compromise in chasing a substandard packaging rather you can increase the product's price.
Be Eco-Friendly
Eco-friendly jewellery box is a new trend people are following nowadays. It is a popular alternative among people who do not want to contribute by plastic pollution. We at Dibiaa use recycled cardboard as raw material to manufacture jewellery boxes. Dibiaa provides you with 100% eco-friendly jewellery box packaging at competitive rates.
Why Choose Dibiaa?
At Dibiaa, we believe the product's packaging is as important as the product itself. Before looking at the product, the customer sees the packaging. We are on a mission to provide affordable and eco-friendly jewellery boxes for gift packaging. You can choose us because we have :
Satisified Clientele:- We have served numerous clients all across India, which include Silver Nest, Hotilal Jewellers, Kadambani Jewellers, Ziha, Shreenath Nayantara, Dhanalaxmi Jewellers, The Golden Bird, Elementa Jewels, Silver Stone and the list is endless.
Fast Delivery:- We fulfil orders more quickly than other manufacturers and vendors in the market. Typically it takes 7-10 days to deliver the order, and the best part is that the client in well informed about his order at every step till its delivered.
Premium Quality:- we are trusted by brands for premium quality and eco-friendly jewellery boxes. We manufacture Jewellery box packaging as per international standards with quality raw materials. Stringent quality check ensures that every piece delivered to you is perfect.
Customized Products:- We also undertake customised packaging orders. if you have a design, colour, shape or fabrication in mind, we at dibiaa provides end-to-end solution and help you get what you have desired or imagined for your packaging. For smaller quantities, you get premium quality jewellery boxes with your customized logo and design.